← Go to the news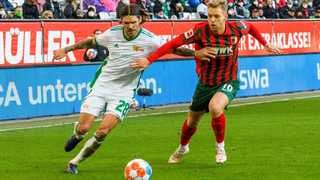 Klublar o'rtasidagi JCH.
«Al Ahli» yarimfinalga yo'l oldi
BAAda o'tayotgan klublar o'rtasidagi jahon chempionati chorakfinalida Misrning «Al Ahli» klubi Meksikaning «Monterrey» jamoasini minimal hisobda mag'lub etib, yarimfinalga chiqdi.
«Al Ahli» final yo'llanmasi uchun Libertadores Kubogi g'olibi «Palmeyras» (Braziliya) bilan kurash olib boradi.
Klublar o'rtasidagi JCH. 1/4 final
Al Ahli — Monterrey 1:0
5 fevral, «An Nayan»
Gol: Hani (54).
Al Ahli — Lutfi, Yosir, Rabia, Mag'ribi (Fuad, 64), Hani, Diyeng, Afsha Ma'lul, Ash Shahat (Soliman, 79), Ahmad (Luis, 74), Muhammad.
Monterrey — Andrada, Agirre, Ortiz, Moreno, Vegas (Galyardo, 57), Kranevitter, Romo, Meza, Gonsales (Yanssen, 57), Pisarro (Kempbell, 68), Funes-Mori.